Video Marketing for Businesses
With nearly 4 billion smartphone users around the world, video is one medium that allows you to communicate your entire brand story, introduce your products or services and engage your audience in a matter of seconds or minutes.
Are you looking to share your story and standout from the crowd?

Video has proven to be the most effective way for businesses to do this. 
Why Video is so important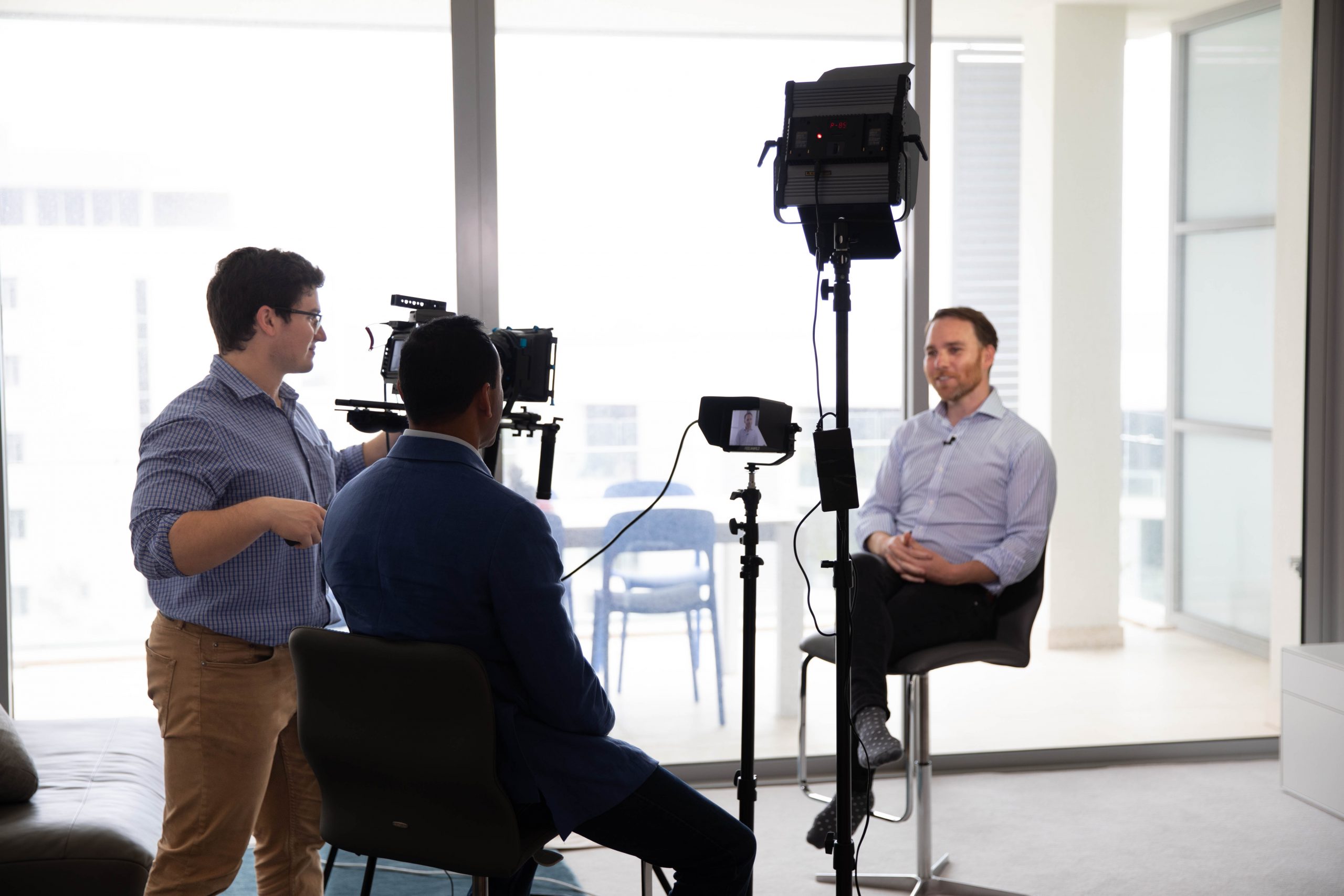 Find out how we can help you today.
Corporate Services
Build your brand with sophistication and elegance. Nurture trust, credibility, authority — all the things that your audience are looking for in a brand. Choose Ithaka Media to make this happen for you.
Video Business Cards
Most professionals have a business card, but how many people have a video business card? A video business card is an overview of your professional profile in the form of a video, giving the chance to create an emotional connection with prospects, clients and colleagues. Get in touch with us today to learn more about video business cards and how best you can use them.
Induction and Safety
It is important that employees get up to speed with the values of your business and learn how you operate. Video can efficiently and effectively welcome new employees to your company as well as informing them of safety precautions. Contact us for a quote.
Events
Are you in need of a videographer to film your event. We can provide video and audio coverage of your event and produce a highlight package so that you can look back on the day fondly. Whether it's a seminar, birthday party or corporate event we've got you covered.

Promotional
When it comes to reaching clients and connecting with them, a promotional video is a tool that any business – big or small – can use to achieve that. We make videos to promote your business in a way that is personalised and visually interesting so that you can stand out from the others. Get in touch with us today to talk about how you can use video to promote you business.
Fashion
Audiences now are no longer satisfied with the final results of fashion, they want intimate and authentic behind the scenes video exhibiting the essence of fashion. Today's most successful fashion brands understand this and strive to deliver this new expectation of story telling to their audiences. We strive to encapsulate your vision and carry it through to your audiences.
Clients We've Worked With






What People are Saying About Us

"Jeremy and his team create excellent videos, and they are pleasure to work with. I highly recommend them."

"Jeremy is amazing. The quality of work that the team at Ithaka Media produce is second to none. Cant recommend them enough. "

"Don't think twice, if you need a video done for your website, products, services, social media or create a digital business card Ithaka Media is the way to go!"

"I was very happy with the work that was done and will be recommending Jeremy to all of our clients!"
Our Process
Our Video Marketing Process
We have a methodology that will help grow your business through video marketing.
Foundation
In the foundational phase, we look at the overview and the core messaging of the business so that we can establish who you are as a brand and create that initial emotional connection. What we deliver in this phase is a video business card, four videos for each of your main products or services and a client onboarding video.
Social Proof
The Social Proof phase is all about providing evidence of your work and the impact and success that you have had with your clients. We tailor all these videos to create trust in your work and services. What we deliver in this phase is four Customer Testimonial Videos and two clients Case Study Videos.
Credibility
In this phase, we look to build credibility within your industry and position you as an expert in your profession. We want your clients and peers to respect you and be drawn to work with your business. What we deliver is four educational videos for social media, four how-to-videos and one long-form expert interview video.
Nurturing
The nurturing phase is focused upon looking after your current client base and network in order to remain top of mind and engage with those that are familiar with you and your business. This is created by taking a 'behind the scenes look at your business to give clients an insight into the company culture.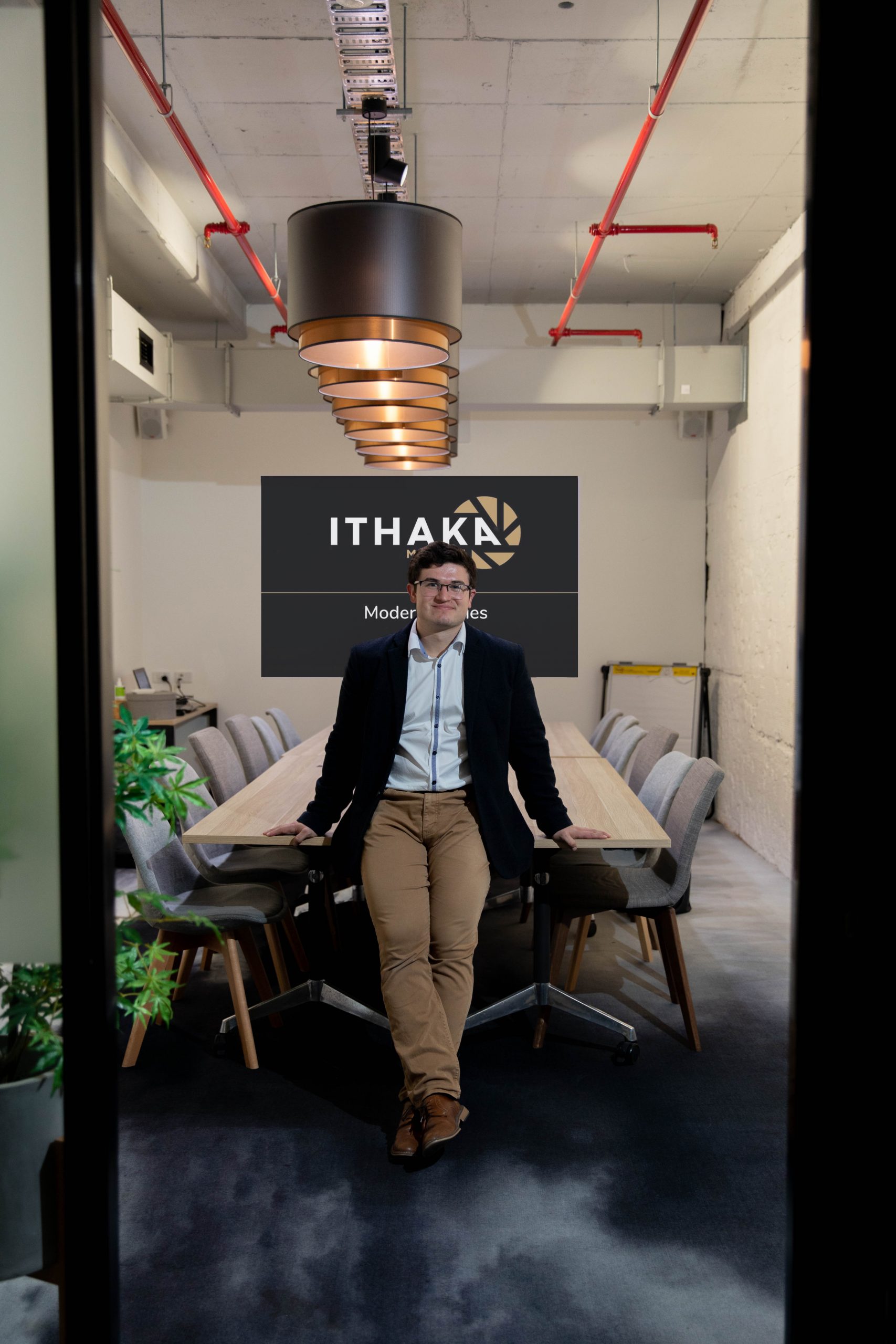 The world is full of video content. So what makes Ithaka Media different?
Here at Ithaka Media, our client is everything. Everything to our team, everything to our content, everything to our approach. We build stories with the client at their very core — stories that deliver the right message to the audience. This is our difference.
Our video services for your buisness
Video Business Card Corporate Overview
The utilisation of video business cards has increased dramatically over the last few years. Being able to convey your company's core drivers and operational style in a bite-sized clip is becoming increasingly important for business success in a time poor world.
Client Testimonials x 4
Client testimonials play a major role in the decision making process of future customers. We know consumers are more likely to trust eachother rather than trust marketing collateral and so by using client testimonials, we can add more weight to the decision making process.
Interviews
We know you are experts in your industry, that's how you've been able to start and run a successful business. Conveying that to future clients can be more difficult than first thought. By using expert interviews we are able to build on your industry authority while effectively communicating this to your current and future clients.
Client Portfolios
People buy on emotions and stories. How your website makes them feel will ultimately determine whether they will work with you or not. By creating tailored portfolios we can invoke those intended emotions while highlighting the great work you and your business do.
Client Onboarding Videos
Client onboarding videos are a great asset to every business for a number of reasons. Firstly, video holds consumer's attention for a longer period of time, making it easier for them to digest the information that is being shown and the key points you want them to take away from the process.
Secondly it provides a much more personal touch rather than a standard email or text. We want your customers to feel like they are at the centre of everything we do and video has proven to be the solution to this goal.
Product/service videos
Consumers these days often want to "try before they buy" however with more and more things turning digital and moving online, that becomes increasingly harder to do. Videos are the best way to effectively show what exactly your product or service is, and what they as consumers can expect. From an all-angles view and demonstration of a product, to a detailed step-by-step walkthrough of a particular service you provide, video is much more effective than standard images or written descriptions in showcasing your products and services.
Educational Videos/Conceptual Overviews
Having the ability to explain a concept or educate people on a particular subject can be extremely difficult if you are not in a face-to-face situation. Video is the next best thing!
Through video you are able to easily and effectively explain concepts and educational pieces to your target audience. It also gives the viewer an opportunity to pause and re-watch for further clarity.
Company Culture Videos
Culture can often be a hard thing to showcase to those who haven't experienced it first-hand but is often an indication of whether someone will work for or with your company.
Company culture videos need to be created and handled with the utmost care to ensure the correct message and image is being portrayed of your company. After all, culture and reputation take years to build up and is something you should be proud to showcase.
Year in Review Video
A year in review video is exactly as it sounds, an overview of your company in the year we have filmed to give not only yourself a chance to take a look back at your successes for the year, but also give you clients and customers a chance to see all the things that have happened in just one year.
How-to-videos
Whether your business sells specific products or services, a How-To video will enable your clients to understand exactly how they can get the most out of working with you. Having a clear and constructive video outlining a specific product or service will not only keep your customers happy but also save you time if you constantly need to follow up with them.
FAQs
FAQs are an important part of every website and business. Using video can be helpful in not only answering questions, but also explaining in greater detail different aspects to that question. Rather than having pages of words that most people will avoid reading, video FAQs can pack much more content in an easily digestible way.
Personalised Client Videos
More and more consumers are looking for that personal touch with every interaction they have. Through video, we can create a personalised experience without taking much tme out from your day. A small effort on your behalf to create the video can have a massive impact on a client and their decision making process.
Ready to stand out from the crowd?
Contact us today.